Reflections by Ed Miller …
I want to introduce you to Nora and Fred St. Laurent. I met Nora at a book signing in the Atlanta area back in June of 2014 and I'm just starting to get to know Fred. They are an amazing couple who have a passion for reading and for books. I'm sure they would agree that "Books Are Wonderful!" They also love to share the real "behind the scenes" stories of authors with their readers. They're doing this through Book Fun Magazine and the Book Club Network, Inc.


Did you know that there are Christian book clubs all around the world? They're usually connected with local bookstores and they provide a place for people who love to read to connect and share with other like-minded readers. They all read books and come together for fellowship and discussion. The leaders of more than 2000 of these clubs form the Book Club Network, Inc. Nora was leading a club through a local bookstore and decided to bring these folks all together by starting the Book Club Network. Did you know about this? I was clueless until recently.
In 2012, Nora and Fred teamed up to launch Book Fun Magazine. It's growing like wildfire. The readership has grown beyond 400,000 and is composed primarily of people who are passionate about books as well as many other things. They are projecting a million readers by the end of 2015. Their success seems to be based on the the power of story. All of the articles in the magazine focus on life-changing stories. Authors share stories from their journey. Readers get to know another side of their favorite authors. Philip Yancey shares about his love for hiking
in the December issue
and tells the story of his "Longest Day." It's a unique approach and becoming very popular.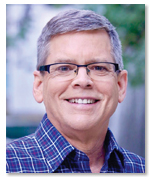 If you didn't already know about Book Fun, I wanted to make sure you no longer had an excuse. You can get a free preview of the magazine at any time and the annual subscription is very reasonable. The December issue also features an article by Dr. Scott Turansky where he shares about "heart changes" in his life over the past year. He shares other stories that you may have never read or heard before. The magazine is almost 300 pages in total and it's packed with great articles and information. Many of the Book Fun readers are parents and we expect them to be very interested in Scott's story. We've also placed an ad for Parenting Is Heart Work in this issue.
Why not take a look and tell your friends!
If you haven't yet read this ground-breaking title, you can get started by downloading the
38-page FREE preview
right now. You'll learn about the 9 functions of the heart that came out of our study of the heart in the Bible. It's a great read.
You can get the paperback edition for 20% off this month and the Kindle eBook is selling for just $2.99 for the month of December.
"Wow! Parenting is Heart Work is simply a
masterpiece! It's got it all. In this book, Scott
Turansky and Joanne Miller have successfully
re-directed parenting toward the most
important issue of life—the heart. It has my
highest recommendation and we have chosen
it to be our resource for parents at Awana
this year!"
— Larry Fowler, Executive Director, AWANA
Are you committed to "parent the heart"? Please let us know so that we can better gauge our level of impact? It'll take just a few minutes to complete a simple form.
What's your favorite book from 2014?
We'd love to hear what you're reading and enjoying. Please leave a comment.
The $300 Parenting Unchained Giveaway ends tonight, but there's still time to enter. You can also get the eBook on Kindle this week for just $.99! I just purchased a copy for my Kindle.
To celebrate the release of Parenting Unchained: Overcoming the Ten Deceptions That Shackle Christian Parents, we are joining other memebers of the Launch Team in a wonderful giveaway filled with a Kindle Paperwhite, $25 Amazon Gift Card and several biblical parenting products! A value of more than $300! Here's what you could win:
Unlike tablets, Kindle Paperwhite is designed to deliver a superior reading experience:
No screen glare in bright sunlight
Read with one hand—over 30% lighter than iPad mini
Battery lasts weeks, not hours
Built-in light—read without eyestrain
Your Kindle comes loaded with 2 biblical parenting books right at the start:
In Parenting Unchained – Overcoming the Ten Deceptions that Shackle Christian Parents, Dr. James D. Dempsey reveals the ten most destructive lies about parenting. He writes from the heart about the way these lies infected his own parenting, and illuminates the Bible's powerful truths that counter each lie. Both Biblical and practical, each section ends with home activities to help parents take immediate steps to develop their kids' character--character that lasts when they leave home.
This book contains eight principles every family needs written by Dr. Scott Turansky and Joanne Miller, RN, BSN. You'll learn practical, handon ideas for helping your kids deal with their anger, constructive ways to end discipline times, and keys that will help children change their hearts, not just their behavior. Turansky and Miller offer tried and true strategies in a refreshingly new family-friendly format. This is the parenting book you can read to your kids.
$25 Amazon Gift Card
Buy even more books for your new Kindle!
The Christian Parenting Handbook contains nuggets of parenting wisdom condensed into 50 short chapters, each one biblical, practical, and relevant for parents of children ages 2-18. Learn appropriate ways to correct, instruct, and set limits. Glean wisdom for dealing with emotions, conflict, and developing closeness in your family… and much more. These 50 strategies provide you with hands-on tools for parenting children of any age. The Companion Guide is a workbook of 50 lessons along with 50 audio tips to take you through The Christian Parenting Handbook step by step. Each lesson contains advice from Dr Scott Turansky and Joanne Miller in a 5 minute audio tip and then offers teaching, an assignment, a Bible verse, and a prayer to help you apply each idea or strategy in your family. The tips are available to you as MP3 downloads and access to them comes in the workbook.
The Family Toolbox has 8 lessons. Each one has a 1-2 minute scene of a family living life and experiencing common challenges in their relationships. A discussion guide prompts dialogue between parents and teens and a 10-minute teaching session for parents featuring Dr. Scott Turansky and Joanne Miller, RN, BSN gives practical tools to use right away. As your family works through the lessons, teens learn 16 Life Success Principles and parents learn valuable tools.
It is easier to share the Word of God when it is etched upon your heart. Philippians in 28 Weeks™ is a delightful and painless way to commit the entire book of Philippians to memory. This streamlined approach uses memory cards carefully constructed to present Philippians thought-by-thought, copywork verses, journal questions, weekly reflections,recitation charts to test your retention, and an optional tracking tool called "The Log."
To enter the giveaway, use the Rafflecopter below. U.S. residents, age 18 and older. Void where prohibited by law.