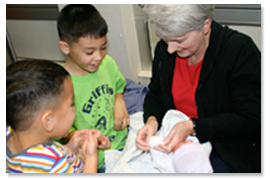 I've been reading with curiosity the post from Ed Miller and others about the greatest challenge facing parents regarding passing their faith onto their kids. It is interesting because years ago I thought I would just pass my faith onto my kids like my parents did to me, that is until I became a single parent.
Single parents have two critical factors hindering them from passing the faith forward to the next generation. The first is of course the lack of time. Every parent faces this challenge. Our world is crazy busy and single parents can add in the factor that they are doing it alone. There are never enough hours in the day.
However, for the single parent one must add into the mix the issue of why you are parenting alone along with the influence of the other parent.
· If you lost a spouse due to death then you may have kids questioning why a God, who is supposed to be good to kids, took their dad or mom away from them.
· If you are divorced you are forever explaining or giving excuses as to why you are no longer married and if the Bible says God hates divorce, doesn't that mean God hates you and maybe even me, the child. Along with this is how do you combat what the other parent may be telling your children. What if he or she believes something entirely different from you?
· If you have never been married you may be facing or still working through the issue of having a baby out of wedlock or wondering what happened to the child's other parent when you thought things were moving along so well.
· Or maybe you have adopted a child or were artificially inseminated. There are and will be questions as to why you didn't marry in order to have a child that you will need to explain to your child at some point.
I would encourage you to not let these issues stand in the way of gathering your children together in family devotions times or worship times. When I first became a divorced mom I had so much guilt, anger and hostility that it was hard to set those feelings aside. But one day the Lord shook me to my core when we went to church and a man in our church was taking family pictures of each family as they arrived. My daughter screamed, "We don't have a family anymore!" as she raced inside the church. My son, just as lethal, bowed his head and said, "I guess you don't know my dad moved out and we don't have a family now" as he walked with slumped shoulders into the other entrance.
I had to do some heavy duty praying to work through that day. My children were only replicating what I was projecting. We did have a family. It was just a different family now and before I lost my kids to the world I had to pull things together. In time I was able to minister through the divorce. The Lord allowed me to use all the issues of divorce to minister to and disciple my kids. God became the other parent in our home.
God is full of grace and mercy. Single parents more than any other parent have to grab onto and hold onto God's grace and His mercy. We must tell your children how much God loves them and that His Son died for each of them. It is our responsibility to tell the next generation so they in turn will tell their kids. Don't let anything stand in your way. Whether you do daily devotions; meet once a week or even come together as a family once a month do something.
If you are having problems getting started, then meet the first Sunday of each month. At then end of the year you will have met twelve times. Next year meet twice a month and so on. Make it a point to share how the Lord used you or ministered to you during the day. Ask your kids to share something also. The main thing is to meet, share, rejoice, share your joy and give your kids a faith to hold onto.
Psalm 78:4 "We will not hide them from their descendants; we will tell the next generation the praiseworthy deeds of the Lord, his power, and the wonders he has done."