Thoughts from Ed Miller
I once coined the phrase "Books Are Wonderful." For most of my life I worked in college campus ministry with
InterVarsity Christian Fellowship
. Reading has been a part of the IV culture from its early days. We believe that reading is essential to Christian growth. Books are a great way to be "discipled" by Christians from all times and places like John Stott, J.I. Packer, A.W. Tozer and many more.
In my first few years on staff with InterVarsity, I lived at a conference center on the Hudson River called Hudson House. One of the first things I did was set up a small bookstore that would be available for all of the student conferences held there each year.
Once we outgrew the Hudson House and moved to other facilities for our events, I was the one who ran the IV Bookstore. InterVarsity always provided easy access to IVP books, but Byron Borger from the Hearts and Minds Bookstore was always eager to put together books on consignment for us from other publishers. I am very grateful for Byron's partnership in providing great books to students.
I loved giving "book plugs" at IV conferences. I also loved seeing how God used books in the lives of our students. My former colleague and friend, Greg Jao, is giving book plugs this week at
Urbana 12 in St. Louis.
I wish I was there. 16,000 college students are being challenged to read in the same way as they have been for many years.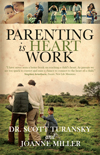 Now I spend much of my time telling people about books on parenting and family. I spoke with a parent this week who told me the story of how reading
Parenting is Heart Work
changed her family. Moving from a behavior modification approach to a heart-based approach was transformational. I love hearing stories like that.
On page 42 in
Parenting is Heart Work,
it says, "Once you have a heart-based approach to parenting, your strategies change."
How have your parenting strategies changed as a result of a heart-based approach? Please take a moment to share your thoughts. Thanks.